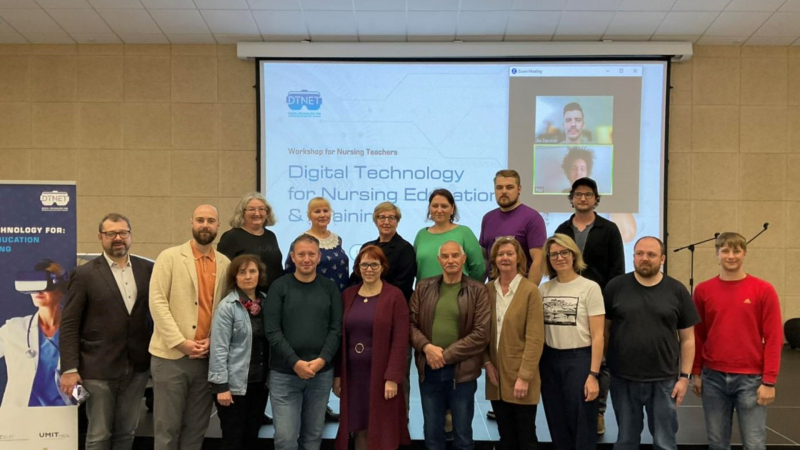 VR training workshop for teachers at the Faculty of Medicine
2023-05-17 09:14:09
We are thrilled to announce the successful completion of our two-day VR training workshop for teachers at the Faculty of Medicine, Utenos Kolegija in Utena, Lithuania, as part of the Erasmus+ project "Digital Technology for Nursing Education and Training" (DTNET).

The workshop brought together specialists from Latvia and Lithuania, including 10 teachers representing P. Stradins Medical College of the Latvian University (LU PSK) and the Faculty of Medicine of Utenos Kolegija. Our main objective was to "train the trainers," equipping teachers to pilot the DTNET VR Application and conduct an empirical study within the project.Throughout the workshop, we introduced the DTNET application and conducted trials for two training scenarios. We gathered valuable feedback from the teachers, which will play a crucial role in enhancing the current version of the application and integrating it into the teaching program of both institutions alongside the main curricula. A significant highlight of the workshop was the presentation of our didactic concept, which forms the cornerstone of the entire DTNET project. Our mission is to bridge the gap in European medical and nursing education by fostering collaboration among specialists from various fields, including digital developers and medical professionals. Engaging in fruitful discussions, we are now fully focused on preparing for the upcoming conference at P. Stradins Medical College on May 19, where we will showcase the progress of our project to the audience.
We would like to express our deepest gratitude to our colleagues from the Baltic states, Austria's University for Health Sciences, Medical Informatics & Technology (UMIT Tirol), Sweden's Umeå University, and Germany's Weingarten University of Education for their invaluable contributions to the project's concept, training course, and VR application development.