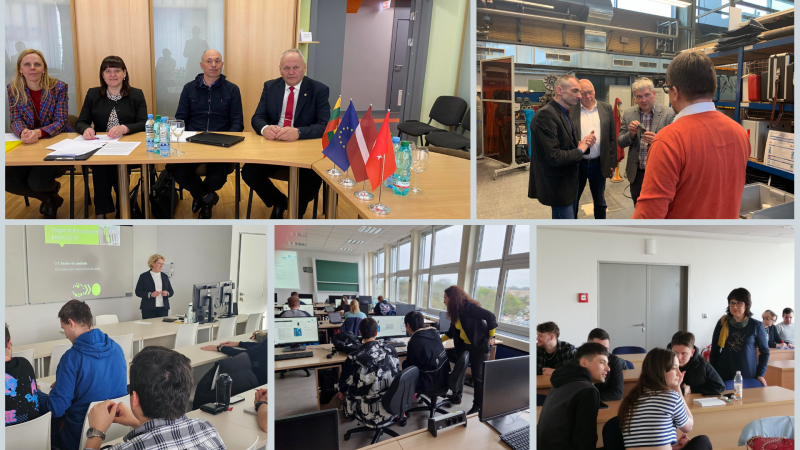 Erasmus+ international weeks in the Czech Republic, Germany and Latvia
2023-05-03 10:11:16
Active Erasmus+ exchanges continue at Utena UAS.
At the end of April, Dr. Rūta Meištė, Jūratė Aksomitienė and Rūta Puidokaitė-Savickienė, lecturers at the Faculty of Business and Technology, took part in the 8th Erasmus+ International Week at the Higher Education Institution in Olomouc (Czech Republic).
Participants from Lebanon, Yemen, Turkey, Poland, Austria and Lithuania presented their country and educational institution. Lecturer Rūta Puidokaitė-Savickienė talked about Utena UAS. One of the most fun activities of the meeting was to teach the foreigners sitting next to them to say at least one sentence in the language of another country. "I love Lithuania".
Lecturers from the Utena UAS gave lectures to first-year bachelor and first-year master students in economics. The students completed hotel management tasks prepared by Dr. Rūta Meištė and lecturer Jūratė Aksomitienė, as well as marketing communication practical tasks prepared by lecturer Rūta Puidokaitė-Savickienė. The students were engaged in lively discussions and warm communication.
Dr. Jūratė Urbonienė, Dr. Laimonas Kairiūkštis and lecturer Arūnas Pranaitis, assistant professors at the Department of Engineering and Technology, took part in the International Week 2023 at JADE University in Germany as part of an Erasmus+ mobility visit.
They met with Prof. Dr. Knut Partes and Dr. Josef Timmerberg from the field of electronics engineering and visited the electronics engineering laboratories. Dr. Jūratė Urbonienė gave a practical lecture on the introduction to microprocessor programming in Thinkercad to the students of the Digital Circuits course. Everyone took part in meetings and discussions with the participants of the international week from different foreign countries.
The Erasmus+ International Education Week and the Latvian Lawyers' Days, attended by lecturers Dr Daiva Petrėnaitė, Viktoras Žemčiugovas, Evaldas Norkūnas and Dr Vaida Bartkutė-Norkūnienė, took place at the College of Law, Riga. Dr. Daiva Petrėnaitė presented the results of the study "Issues of the Right to Gender Identity and Transgender", Evaldas Norkūnas - the presentation "Smuggling Control and Prevention: the Case of Lithuania and Latvia", Dr. Vaida Bartkutė-Norkūnienė - the presentation "The Expression of Leadership Competence of Managers in Organisations: Methodological Basis".