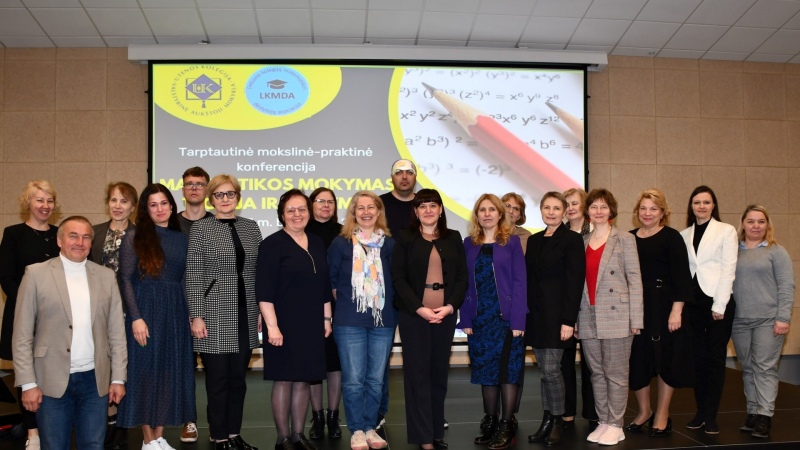 Insights and experiences in teaching mathematics
2023-05-02 08:34:31
27 April "Teaching Mathematics: Theory and Application", an international scientific-practical conference, was organised by Utena UAS in cooperation with the Association of Mathematics Teachers of Lithuanian Colleges.
In the plenary session, Dr. Roma Šiugždaitė (University of Antwerp, Global Health Institute, Belgium) presented "I'm afraid of maths! How to activate the "motivation molecule" and overcome this fear?". Dr. Viktorija Sičiūnienė (Academy of Education, Vytautas Magnus University) spoke about the change in the mathematics content of general education schools, and Dr. Sigita Urbonienė (Academy of Education, Vytautas Magnus University) discussed the current issues in mathematics teacher training in Lithuania.
Speakers from Liepaja University (Latvia), Panevėžys UAS, Kauno kolegija Higher Education Institution, Vilnius College of Technology and Design, Utena UAS shared their insights and experiences in teaching mathematics.

There were lively discussions on the anxiety about mathematics felt not only by students but also by teachers, the newly approved mathematics curriculum, the shortage of mathematics teachers, the lack of mathematics knowledge of first year students, and other problematic issues.

Lecturers shared good examples of mathematics teaching methods and congratulated students on their achievements.

The conference was followed by a reporting meeting of the Lithuanian Association of College Mathematics Teachers (chairperson Dr. Zita Baužienė).