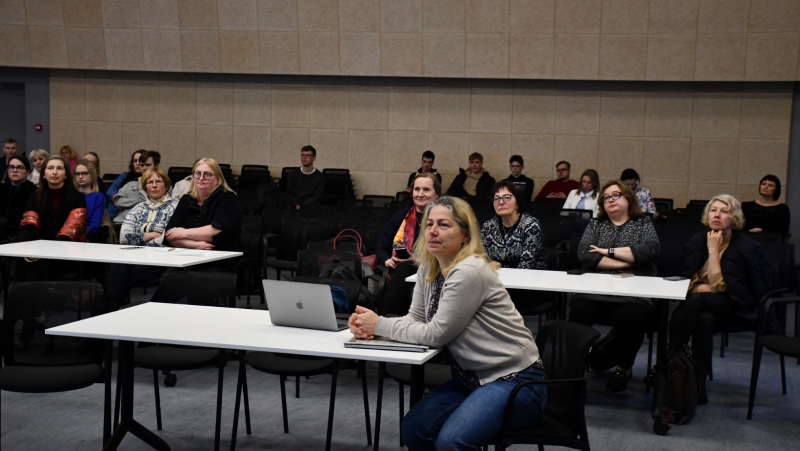 Scientific and Practical Conference - presentations on various topics
2023-04-20 11:39:50
The traditional International Student Scientific and Practical Conference "A country where it is good to live", organised by the Faculty of Business and Technology, took place at Utena UAS on 19 April 19.
Students and lecturers had the opportunity to participate in two sessions - the first one was held live at the UAS, the second one was held remotely.
The participants of the conference were welcomed by the Director of the Utena UAS, Dr. Raimundas Čepukas, for the 1st session.
The session featured presentations on various topics. The plenary presentation "Neuroscience for Human Well-being" by Dr. Roma Šiugždaitė (Institute of Global Health, University of Antwerp, Belgium) was particularly well attended.
The presentations of the students of Utena College, who presented their insights in this session, dealt with the application of technology in manufacturing, the use of online systems in business, data protection, social and cultural services, environmental protection and other issues. The presentations of Panevėžys UAS participants focused on socio-cultural activities of the elderly, integration of children with disabilities.
The session was moderated by students Markas Timofejevas and Gražvydas Plaščinskas. The session was summarised by Dr Inga Jakštonienė.
Dr. Vaida Bartkutė-Norkūnienė, Dean of the Faculty of Business and Technology, wished the participants of the 2nd remote session a successful and fruitful work.
The plenary presentation "On Gender Equality in a Different Way" was presented by Dr. Daiva Petrėnaitė (Utena College). Presentations were given by representatives of the University of Technology of Bialystok (Poland), University of Liepaja (Latvia), Lithuanian University of Health Sciences, Lithuanian University of Sport, Utena UAS, Panevėžys UAS.
The session was moderated by students Inesa Bimbirytė and Tomas Jelinskas and summarised by Dr. Rūta Meištė.